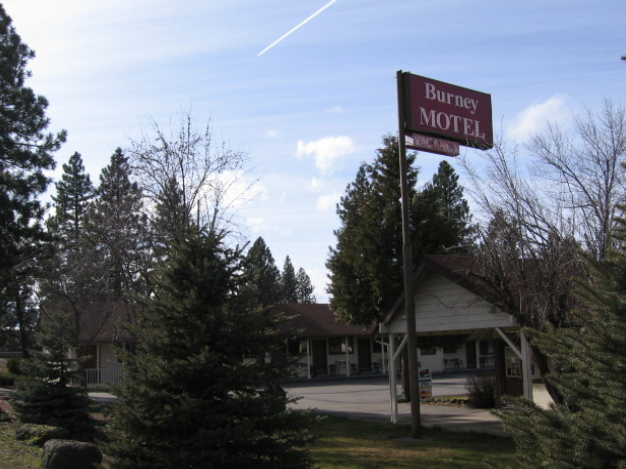 The Burney Motel is a family owned and operated motel conveniently located in downtown Burney, specializing in travel accommodations. We offer very comfortable, extremely clean, quiet, affordable single rooms, double room suites and suites with full kitchenettes.
You can relax within our motel and have a wonderful time being with us as we are just across the shopping center that features Rite Aid, Sporting Goods and a number of restaurants including McDonalds and Subway. Next to the Motel is a nice Laundromat as well. We are just within walking distance from the Pit River Casino and the Movie Theater, Art Gallery, Banks, Antique Shops and more. Centrally located we have easy access to many tourist attractions, such as the Burney Falls, Lake Britton, Pit River, Burney Creek, Burney Mountains, Fall River Golf, Subway Caves, Larsen National Park and many other Rivers and Lakes. The Burney Motel is truly your home away from home. Our accommodations and lodging facilities makes sure that all guests have an enjoyable stay with our high standards for customer service and ability to personalize your stay. As you spend your vacation here you will really know that we are the best in our services and follow through with our promises.
Since taking up the ownership last year, we have made lots of improvements to our in-room facilities and amenities (New furniture, TV, Radio, Linen etc.) and are now concentrating on the outdoor recreational facilities such as Horse-shoe pit, Golf putting green, Picnic and BBQ spot, Gazebo, Truck Parking and more.
WE OFFER:
24 hour check-in service
Free Wi-FI
Quick check-in service for larger tour
Group Services/Family Re-Unions or Tour Groups/Golf Teams , Hunting Groups etc.
Free Local and Long Distance Calls (within the US)
Refrigerator, microwave Oven, Coffee Maker, Radio, Ironing facilities and more.
Accept all major credit cards